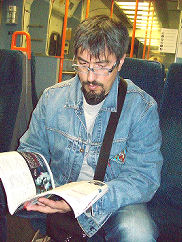 londra, ottobre 2009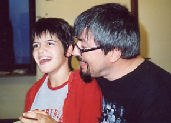 marco e valentina, inverno 2007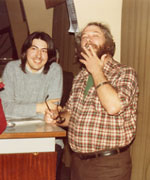 con john fahey, 1982
presentazione | mi presento brevemente. mi chiamo marco pandin, ho 52 anni. abito vicino a padova ma sono cresciuto e vissuto a mestre (venezia) per quasi trent'anni. vivo con lucia dal 1987, ci siamo sposati nel 1990 ed abbiamo avuto due figlie, valentina (1992-2008) e marta (16 anni). | a tenermi lontano da amici, compagni, piazze, incontri e raduni per tanti anni il fatto spiacevole che valentina era gravemente disabile e aveva bisogno di assistenza continua. | sin da ragazzo ho fatto parte di numerosi gruppi musicali, collettivi teatrali e redazioni di radio libere, ho organizzato molti concerti e scritto su giornali locali e nazionali. | con la complicità di stefano giaccone ho curato e pubblicato nel maggio 1996 "nel cuore della bestia" (ed. zero in condotta), che temo sia il primo libro/documento sul punk italiano fatto in italia. | nel 1981 ho fondato con alcuni compagni rockgarage, una fanzine molto diffusa e seguita nel nordest, e nel 1984 una piccola etichetta discografica indipendente con lo stesso nome. | sono rimasto presto schifato da quell'ambiente di mero sfruttamento della creatività e fatture mai pagate, e ho deciso di continuare comunque, tenendomi volontariamente al di fuori del circuito commerciale, cambiando spesso nome (catfood press, p.e.a.c.e., a/divergo, art as hammer, ora stella*nera) ma non idea. | i vari dischi, cassette, libri, opuscoli e cd che ho curato e pubblicato in questi anni non sono stati e non sono distribuiti nei negozi: sono disponibili solo per contatto diretto e per corrispondenza, e vengono offerti in cambio di una sottoscrizione a favore di a/rivista anarchica, mensile anarcopacifista milanese fondato nei primissimi anni '70, che annovera me tra i collaboratori stabili dal 1984. | parte dei titoli più recenti di stella*nera è stata realizzata in stretta collaborazione con la rivista veneziana aparte [materiali irregolari di cultura libertaria], la cui redazione è impegnata anche nell'allestimento della biennale d'arte ed anarchia. | altre collaborazioni importanti sono quelle con il centro stabile di cultura di schio (vicenza) e le edizioni bruno alpini di imola (bologna).
stella*nera non svolge attività d'impresa: per me è una specie di impegno politico, nonché il mio modo concreto per sostenere la stampa pacifista, anarchica e libertaria.

quasi tutti i testi e le traduzioni presenti nel sito sono opera mia. per ottenere maggiori informazioni su ciascun titolo e/o musicista cliccate sopra <altre informazioni> (se disponibile), o speditemi un messaggio e-mail.
introduction | a quick introduction of myself. my name is marco pandin, 52. i live with my wife lucia and am the father of valentina (1992-2008, who was a seriously disabled person) and marta (16). | i have lived in the industrial city of mestre (the venetian mainland) for about thirty years: since i was a teenager i was involved in music groups and theatre collectives; i've worked as a dee-jay in local independent fm radio stations for many years since the early seventies. i have promoted many gigs too, and have written articles and reviews featured on local and national papers. with stefano giaccone i edited and published in may 1996 the first report on italian punk "nel cuore della bestia" ("in the heart of the beast"). | in 1981 i founded rockgarage with a bunch of mates, a fanzine which had quite a big time in the north-east of italy, and in 1984 a small independent record label of the same name. | soon the excitement turned into disgust, as the newborn indie scene seemed to me just another disguise on the greedy face of the same old wolves, so i decided to go ahead anyway and keep myself voluntarily away from the music business, trying make my production survive without any commercial distribution. | in these years i frequently changed my name (catfood press, p.e.a.c.e., a/divergo, art as hammer, now stella*nera) but not my mind. the various releases i edited and produced since then were, and still are, not distributed in regular record shops: they are available only on mail order, and the price you pay goes to a/rivista anarchica, an anarchopacifist monthly magazine published regularily since the early seventies. i am a contributing editor to a/rivista anarchica since 1984. | many of stella*nera most recent releases were produced in collaboration with the venetian art alternative magazine aparte, whose members are involved in the organization of the anarchist art biennale exhibition. | further importart collaborations are established with centro stabile di cultura in schio (vicenza) and bruno alpini editions in imola (bologna). | stella*nera is not my job, it is sheer voluntary work. i consider it a sort of political engagement and a fund raising activity: it is actually my own way to support the anarchist, pacifist and libertarian press in my country.

text and translations featured in these webpages by marco pandin except where noted. to get more information about a single release and/or a musician/band, just click on <more info> (when available), or send e-mail to my address.